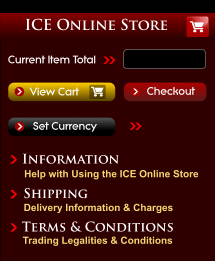 $0.00
$ (USD)
Gann's Mass Pressure
W. D. Gann's Mass Pressure Forecasting Charts. By Daniel T. Ferrera. The Mass Pressure Formula is one of Gann's most guarded secrets. Mass Pressure indicates bullish and bearish trends according to Gann's Master Time Factor. These charts are based on Gann's philosophy that "the future is nothing but a repetition of the past".
McCormack Astrotech
Astrotech Journals. By George McCormack. A rare collection of astrological market journals from the astrologer and astro-meteorologist, author of the famous 1965 classic Long-Range AstroWeather Forecasting. We have perhaps the only surviving set of his astrological financial journals scattered through the period of 1937 thru 1942!
Hasbrouck Archives
Cutting edge Space and Solar Researchers, Muriel and Louis Hasbrouck's Space & Time Forecasting techniques are STILL more advanced than those of NASA or the current scientific community. They produced 50 years of Market Forecasts with a 90% accuracy rate and forecasted Space Weather, Earthquakes and Geomagnetic Storms.
Market Barometers
A quick insight into general conditions of the market can be had by synthesizing combinations of data as simple indicators giving an overview. Such indicators are often based on diverse data, from astrological signals, like Scott's Astronomical Market Barometer or Bradley's Siderograph, to whether a specific market is overbought or oversold.
Baumring Reading List

Dr. Baumring's reading lists were very comprehensive, covering all areas of the markets, sciences and metaphysical fields. Baumring was an intensive scholar who read 1800 words a minute and had a photographic memory, thus extendinghis scope. Baumring's 10,000 volume library included around 500 books which he saw as core information.
Metaphysical Biography
One can learn much by studying the lives and achievements of the great thinkers who have shaped human history and culture. In our biographical library we have a collection of rare texts which complement theoretical study by allowing deeper insight into the characters and deeds of many significant philosophers.
Occultism
The term "occultism" is often misunderstood by those who fear the unknown. It simply refers to "hidden knowledge" and the various esoteric traditions, such as Theosophy, Anthroposophy, Magick, Hermetics, Tarot, and Astrology. In the Alice Baily works channeled by The Tibetan, Djwhal Khul "occultism" encompasses all high esoteric science.
Dr. Jerome Baumring
Dr. Baumring is the only known person to have fully cracked W. D. Gann's full Cosmological System! He reproduced Gann's results, forecasting markets within 3 minutes of turning points. He extended Gann's Law of Vibration into DNA Coding, Chaos Theory, and Topology, creating multi-dimensional, mathematical models of the markets.