The Search for the Perfect Astro-Trading Tools
How the Tools Work in Trading with Selene's Chariot
A market forecasting book deriving powerful trading applications from Celestial Mechanics & Geometry
By Sean Erikson
What's In The Book?
Having spent many years as a professional fund manager, I am as aware as can be of the need for the most efficient and powerful trading tools with the greatest reliability and simplest application possible. I have spent many years deeply exploring the mechanics of technical systems as well as abstract concepts like Gann theory and astroeconomics, and am sensitive to the dangers of getting lost in subjects that are overly complex and while fascinating, may demand many years of study to produce results that are consistent and dependable.
Nowadays, I'm more interested in actually using a tool on charts to find trades rather than digging into deep background research, though I suppose my past work has supplied the ideal background for effective tool development. But I'm not really into that much theory anymore, I'm into applied trading and tools that are clear and precise and give me the results I need for trading.
So, I'm going to skip the bullshit, and get right to the nuts and bolts of what I have discovered to be the most powerful set of integrated tools based upon astro principles that I have been able to develop after 20 years of research and professional trading. Obviously, I'm not going to show the whole thing, but I'll go as close to it as I'm comfortable doing given the public nature of this article.
In conceiving such a toolset, probably the most recognizable example I can give of something similar would be Andrew's Pitchfork and associated tools. Pitchforks are very simple to apply and do a decent job of defining he forthcoming market action with minimal effort. However, as most traders know, there is absolutely no guarantee that a trend will actually follow the Pitchfork guidelines, defining the move with the precision that most traders require.
Yes, Andrew's principle that when a market hits the upper channel line of a Pitchfork it has a 75% chance of dropping from there is relatively true, though 75% may be pushing it. But it is not uncommon for the market to break the channel lines requiring the continual addition of more and more lines to contain the move. And while the Median Line of the channel sometimes defines the general direction of the forthcoming trend, it does not do so with any kind of absolute.
Now, let's imagine what the dream Pitchfork tool would do if you could have it do anything. First it would be nice if it could be applied immediately from the most recent top or bottom without requiring two further swings to set the 2 channels and direction. Then, how nice would it be if the Median Line ALWAYS gave you the EXACT slope of the coming trend? And while we're at it, I would like to have the channel lines always contain the full range of price movement of the coming trend as well.
Then let's throw in a couple things that the Andrew's work does not even try to do. I would like the Pitchfork to have a price projection, perhaps two, one for shorter trends, and one for longer trends, that tell us when the move will most likely end, say with 75% or better odds, and if he 1st one doesn't turn it, the next one definitely will.
And just to dream as big as we can, how about if it also projected the next turn or two in time as well. And we want all of this to be so easy to calculate and apply that it takes nothing more than several clicks of a button. Further, we would want this tool to work on any market and on any time frame from 1 minute charts to yearly charts.
By this point you're probably thinking that we're asking for too much… But you would be wrong, because all of this is exactly what this set of astro tools I have developed does. I'm sure you are thinking, "I'll have to see it to believe it," so let's quit talking and instead show this set of tools visually, since a picture is worth 1000 words.
By this point you're probably thinking that we're asking for too much… But you would be wrong, because all of this is exactly what this set of astro tools I have developed does. I'm sure you are thinking, "I'll have to see it to believe it," so let's quit talking and instead show this set of tools visually, since a picture is worth 1000 words.
Practical Trading Applications
The following chart shows an 8 minute chart of the Emini from a few months back that I had been tracking for a couple weeks. On Thursday, May 14, the ES made an important low. Check it out: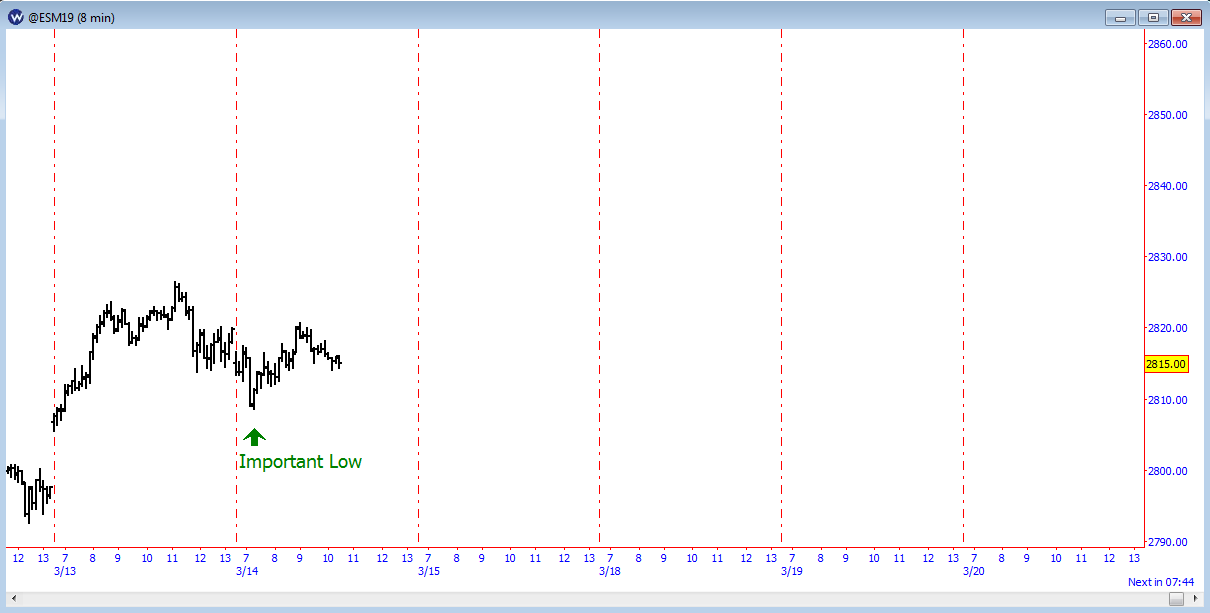 As soon as that low was in, I was able to draw the following:
This is a channel, just like the outer lines of a Pitchfork, but not just any channel. The lines are not arbitrary. They are fixed, and they were fixed at the low of the move down from the 13th. These are invisible lines of force that will govern the market through the move up. However, they are very different from typical channel lines or trendlines you may have seen before, because they are NOT set by the market. These lines come from natural law. It's a tunnel! A tunnel through the air, if you will! Do you see where I'm going with this?
The next chart is updated to show the market action of the ensuing trend. Notice how the channel contains the breadth of the price movement for the entire move? Check off one of our requirements. Also observe that the slope of these channel lines exactly project the slope of the ensuing trend. Check off another requirement.
Again, these lines were NOT placed after the swing. They were placed BEFORE it! That's why they're special. The market will run up through this channel until it's done, at which point it will enter into a downward facing channel. That's actually one of the ways we knew about the importance of the low on the 14th. There was another channel that the market was working through to the downside back then. I'll add it on the following chart so you can see what I'm talking about:
The ultimate confirmation that the trend was up and that the low on the 14th was the final move of the previous down swing was the fact that the market broke out of that red channel. There is no way we would have been anything other than long when that happened on the afternoon of the 14th.
And yes, those red lines were fixed and drawn on the chart right at the time of the previous top on the 13th, when the market was working through yet another channel. And that channel also captured he slope and price range of that prior trend. Once the channel was broken, we had our signal to reverse direction, as is done in most swing trading systems.
You can think of these channels as tubes. The market enters one end, and rattles around inside the tube until it comes out the other side. But how do we know when it will come out? Do we have to wait for a break of one of the channel lines as in the chart above?
There are more to these tubes than just those two lines. One cool feature is that there is a time for making a turning point, and there is a time for trending. When the market finds itself up against the edge of the tube and it's time for a turning point, then that's when the market bounces.
I've boxed in those special times on the next chart.
It looks like I just went through and circled the market each time it pressed up against one of the blue lines, doesn't it? I didn't! The time of those boxes was known in advance too, just like the channel lines. We were expecting the market to be bouncing at the time of those boxes! We also had some price targets to work with, two of them in this case as shown on the next chart.
Like the channels, those green lines were placed at the time of the low and gave us the price levels where we would expect the move to terminate. Usually swings turn over at the closer line, maybe ¾ of the time, and if that first target doesn't hold (as in this case), then the market gets an extra push up to the extended 2nd target line.
So, what I'm saying is that everything I've drawn on the chart now – the channels, the pink boxes, and the green target lines – was actually available to me as the low came in on the 14th. The width between those two lines is over 15 points.
Let's check another couple boxes from our list of desired tools. The practical applications of having all that on the chart ready to go from the point of each high or low, BEFORE the move starts should be obvious.
So, once the market breaks out, like it did on the 19th, then what? Then we do it again:
Now we've got a new tube to work with, with another set of expected places where the market will bounce, as well as another set of price targets for the entire move. The next chart shows what happened as the next move played itself out.
And the same process continues again, over and over, as each new turning point come in and new channels are set up.
So practically speaking, that gives you an idea of what this tool set will do. Anyone who with access to this work will be able to replicate these examples independently, in any market, and on any time frame.
There is nothing subjective about these tools, and anyone who knows how to use them will come up with the same results for each swing. This is simply how markets work! When you understand what is controlling them, you will be able to measure and apply them with precise accuracy.
Some Theoretical Background
Now let's get into the theory a little and talk about where all of this is coming from, although you should have guessed it from the title of the article. Yes, there's some theory, and yes, if you want to take that theory and fly down one of Gann's rabbit holes with it, you'll be more than able to do that. But ultimately, I gave up going down rabbit holes long ago and I now prefer just to trade with these tools. You will not be required to study any theory at all to apply these tools, as they have been engineered into simple applications based upon the theory.
Everything I've drawn here is based on astro principles, and not in some abstract, obscure way. Many traders have used planets to find potential turning points in the future, but that's only the tip of the iceberg. Planets are much more involved in markets than most people realize. See those channel lines that the market follows back and forth? The planets put those there! There's no technical analysis in a traditional sense at play here whatsoever.
The KEY element is the determination of the slope or angle of attach of each next trend BEFORE it begins. The remainder of the tools are engineered from that specific insight. I know some must be thinking that there is no way that every trend on every time level on every market can be determined through astro principles, but I assure they can be. This is a pure science and the central principle of these tools is indeed able to predict the exact slope of every trend in the markets.
One point on a chart and the entire toolset is laid bare! And it goes deeper than that… We've looked at one big channel running up over these four days. But within that channel, there are numerous other channels that make up the small swings. They're also not random. The next chart shows the lower level swings with their channels.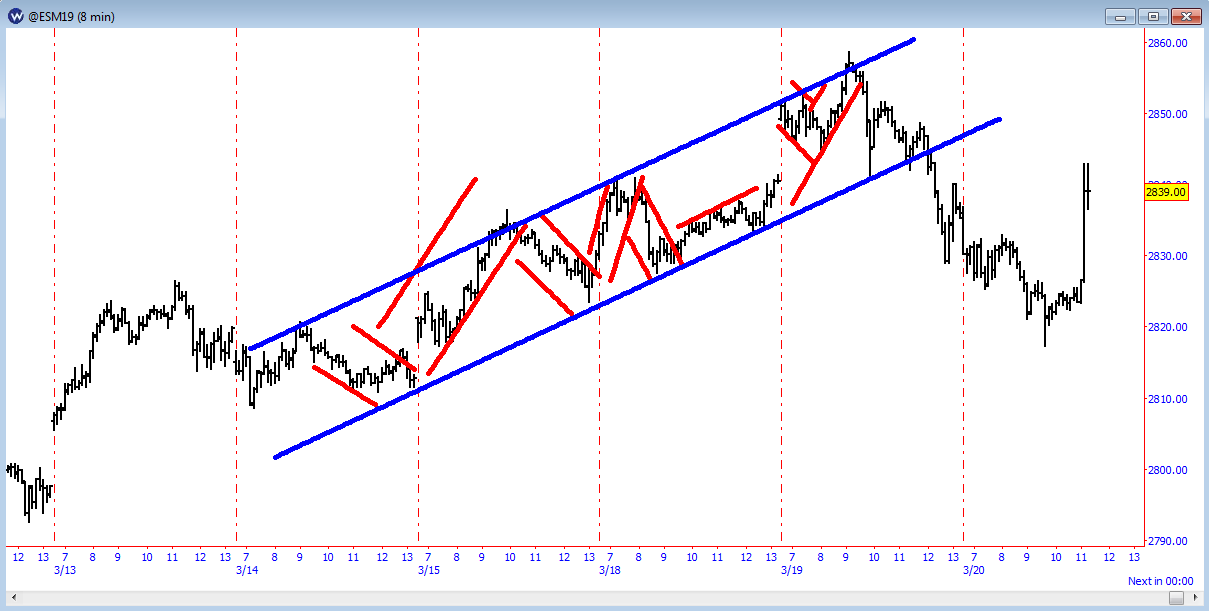 I've done my best to solve and draw them in, but in the real world you'd be watching a 4min or 2min chart and would be following along with all the minor channels as well. If you're conservative, you'd be buying all the way up the blue tube as those minor channels broke to the upside, taking profits at the upper channel line.
But more to the point, those red channels are not random, and are also set by the planets! And see the squiggles within the red channels themselves? Yes, those miniscule uptrends and downtrends are also following their own little tubes. All market action, from the smallest twists and turns on a minute chart up to the gigantic turns on a monthly chart follow the same rules.
These tools can be applied and traded on ANY time level. I'm demonstrating them here on a very short time frame, since the market generally has more noise on the smaller level and I wanted to demonstrate that that noise is NOT random, but is predetermined astronomically, down to the very smallest level.
There's some interesting theory for you, and it has some deep implications for many of the tools that Gann left lying around for the rest of us to figure out. That's not what my book is about, but after you go through this material, I guarantee you'll look at your Gann squares differently. Almost no one is using them properly…
Price & Ordering
Cosmological Economics

Book ID: 674

Publication Date: 2019

210 Pages

1st Edition

$7,500.00

(New Hardcover)

A course by Sean Erikson, that presents a set of highly refined tools used for advanced swing trading based upon principles of celestial mechanics and ancient geometry.
Related Pages