Cosmological Economics
in Theory & Practice
The Forecasts & Space-Time Theories
of Edward R. Dewey
A Life Dedicated to Cycle Studies

Edward R. Dewey (1895-1978), who was a classmate of George Marechal, was an economist who became interested in cycles while serving as Chief Economic Analyst of the Department of Commerce in the early 1930's as a result of President Hoover's desire to understand the cause of the Great Depression.
Dewey dedicated his life to the study of cycles, eventually creating the now famous Foundation for the Study of Cycles, after a lifetime of research into the phenomenon declared, "everything that has been studied has been found to have cycles present."
The Publications of Edward R. Dewey
Dewey published a series of books on cycles, along with 100's of Cycle Journals through his Foundation, and a the most detailed course on cycle analysis called How to Make a Cycle Analysis. Dewey's research was extensive, finding cyclical patterns in every natural phenomenon, every market, and every living thing. The following quotes give a sense of the importance he felt this study had, and the potential science of causation behind it, what we call Cosmological Economics:
"The reason that the study of cycles is important arises from the fact that wherever you have rhythmic variation - or for that matter pattern of any sort - you probably have a cause. For example, if you scatter iron filings on my desk you would expect them to be distributed at random over its surface. If, to the contrary, you find them arranging themselves into a pattern, you have a right to assume that some unknown force is present - perhaps a powerful magnet in my top drawer.

"Similarly, if you find pattern, or more specifically rhythm (reasonably regular cycles), in the alternate thickness and thinness of tree rings or rock strata, or in the abundance of insects, or in the prices of common stocks, you may be sure that there is a cause for such behavior. Also you may be sure that if you do not know that cause you do not fully understand the behavior with which you have to deal. Thus the study of cycles reveals to us our ignorance, and is therefore very disturbing to people whose ideas are crystalized. 'If there are regularly recurring ups and downs in business or in prices, all I have ever learned is wrong' an eminent economist once told me; and he added, in a moment of unusual candor, 'I simply cannot afford to accept such an idea. All my life's work would be ruined.'

"For these reasons many scientists are interested in the study of cycles. First, it is the business of science to predict; second, it is the business of science to solve mysteries and to learn the "how" of things; and third, the true scientist welcomes any tool that gives him hints as to possible cause and effect relationships. These two facts cry aloud for the creation of a new science - the science of cycles - which is concerned with rhythmic fluctuation per se, which will develop techniques of cycle analysis, which will isolate cycles in all the 30 or 40 different branches of science where cycles are important, and which, having assembled enough facts, will perhaps someday venture to advance some theories in regard to cause and effect."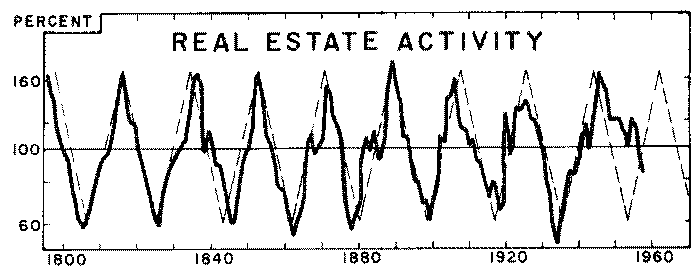 Dewey's Famous 10 Year Cycle Forecast
In 1944, at the urging of a large New York brokerage firm, Dewey produced a cyclical forecast of the market for the next 10 years. He used only 10 cycles, the smallest being 4.89 years and the longest being 21 years, taking the cycles from only annual figures going back to 1854. In cycle analysis terms, this was a very rough and rudimentary forecast, and yet, it called the 1946 high, 1948 low and the uptrend until 1954 at which point the correlation diverged. When as simple a model as this can be shown to forecast the major turns of the market for the next 10 years, a more sophisticated model, such as those produced by Daniel T. Ferrera, can go much further.
While Dewey's work provides a superlative catalog of the endless spectrum of cycles that exist across all phenomena, and his forecast did produce a quite good model of the market, his more simple purely sinusoidal cycle work still does not fall into the same category of market forecasting as our greats, like W. D. Gann, Muriel & Louis Hasbrouck, Baumring or Bayer. However his work is very useful as a means of exploration of the rhythms of natures, and as a catalog the cycle intervals and periods that one finds within nature. Similarly, it can be seen that many general economic trends and patterns are clearly influenced by or correlated to very specific cyclic rhythms.
Advanced Cycle Analyses
A more advanced form of cycle analysis was used to a more successful degree in market modeling by the likes of W.D. Gann or Daniel T. Ferrera, whose course, Wheels Within Wheels produces a 100 year model of the past Dow Jones Industrial Average with a 90% correlation, then projecting 100 years into the future. These financial market specialists simply had a wider spectrum of tools to apply in their modeling than simple rhythmic cycle analysis. Their models incorporate more sophisticated methods of sequencing and periodicity, like those described by Samuel Benner, where the rhythmic exactitude did not have to be always the same.
Dewey's Little Known Theory of Laminated Spacetime
One final and totally unknown element of Edward Dewey is that as a result of his lifetime of study of cyclic phenomena, he developed a cosmological theory of to explain a system of order like he saw behind the market. He called this theory, The Theory of Laminated Spacetime, and it was only published posthumously by his daughter Barbara Dewey in a book entitled Consciousness and Quantum Behavior: The Theory of Laminated Spacetime Re-Examined in 1985, 7 years after her father's passing.
This book has remained almost totally unknown, though it is probably the most interesting and important piece of work that was produced by Dewey (via his daughter) over his entire career. Interestingly, it parallels in many ways the theories and ideas of Gann and particularly Dr. Baumring in developing a cosmological basis for the theory of financial market influence.
Next Page
Related Pages