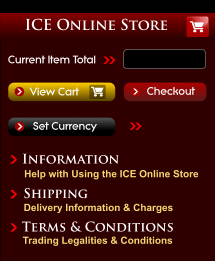 $0.00
$ (USD)
Keys to Speculation
Keys to Successful Speculation by Daniel T. Ferrera is an applied technical trading system using the essentials of risk management with Gann based swing trading. This course has everything a trader needs to go from "0" to being a successful trader, including account management, risk management, trading strategy, entry & exit signals.
Chronocrators
Secrets of the Chronocrators, by Dr. Alexander Goulden is a course which unveils the true Key Astrological influences behind financial market action. It rediscovers the long lost but greatly superior astrological techniques deveveloped by the masters of antiquity. It accurately forecasts turns & particularly trends far in advance!
Law of Vibration
Research works or market systems based upon Gann's theory of the Law of Vibration. Includes many scientific and esoteric work getting into harmonics, cycles, and cosmology as it relates to causative systems of order behind the markets. Primary reference and research section for those studying deep Gann analysis.
Egypt
Ancient Egyptian culture can be traced back 72000 years via Egyptian and Greek records, and encompassed the worlds greatest architectural achievements. What we know of Egypt seems to indicate a legacy from a still older civilization lost in the annals of time. Our collection seeks to uncover the lost wisdom and mysteries of this great civilization.
Cosmology
Cosmology provides the primary basis for our theoretical system of market order and scientific analysis. Moving beyond modern ideas, our approach to Cosmology involves Pythagorean, Esoteric, Eastern, and Ancient metaphysical theories of cosmology. Our ICE collection focuses on ancient concepts as well as modern alternative theories of the universe.
Geometry
One of the 4 Classical Liberal Arts, geometry is a basic ordering principle of the universe. Market Geometry is the study of the markets looking at growth ratios and proportions of moves, structures, reactions, price levels and time cycles. Gann, a master geometer, used sacred geometry for market analysis via Gann Angles and his Master Squares.
Number Theory
Esoteric and Pythagorean sciences love to play with the value and meaning of numbers, from the complex mathematical theories of the Platonists, via Fibonacci's ideas, to number progressions, ratios, proportions, sequences, and chaos theory. We specialize in the overlap of numerical and esoteric systems positing a more integrated cosmology.