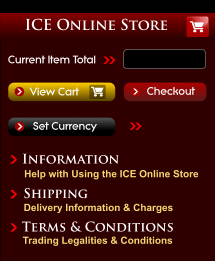 $0.00
$ (USD)
Dewey's Cycle Analysis
How to Make a Cycle Analysis. By Edward R. Dewey. Written in 1955 as a correspondence course, this how-to manual provides step-by-step instructions on all elements of cycle analysis, including how to identify, measure, isolate and evaluate cycles. The most detailed cycle course ever written, by the founder of the Foundation For The Study of Cycles.
How2 Trade Like Gann
How to Trade Like W. D. Gann, by Timothy Walker. Provides profound insights into Gann's Mechanical Trading Method thru a detailed analysis of 322 trades from 1915-1931 presented in WD Gann's US Steel trading course. Shows how Gann turned $3000 into $6 million, generating 1337% returns in 8 months. Gain insight into one of the great traders.
CosmoEconomics
Cosmological Economics, the Key focus of this website, has its origins in Gannís Law of Vibration, interpreted and extended by the work of Dr. Jerome Baumring. Scientific phenomena are seen as a basis of correlation and causation underlying the financial market, indicating a symbiotic relationship between Cosmic forces and reactions on Earth.
Gann Theory
We maintain the largest collection of secondary works on Gann Theory in the world, publishing many books written by top Gann experts and experienced Gann traders. We continually review work by other Gann experts, filtering out the highest quality material for inclusion in our catalog in order to satisfy the needs of our demanding clientele.
Market Geometry
Analytical systems, techniques and tools based upon the use of geometry are significantly effective when applied to the analysis of market trends.
Ancient Civilizations
Ancient civilizations teach us much, but knowledge of ancient cultures is academically perverted and misrepresented. Great monuments like the pyramids and temples far exceed modern architecture, incorporating sciences not even considered today. Our catalog has many rare and important works on Ancient Civilizations.
Cosmogenesis
Cosmogenesis explores the basis of Cosmic origins via intelligent universal creation, rather than materialistic random forces. Consciousness or intelligent energy serves as the true plenum of creation, not random ordering of unintelligent matter. Intelligent Cosmogenesis has dominated all scientific, metaphysical and spiritual ideas from ancient times.
Space-time
Space and time can be seen as the primary elements which define the container of existence in which we all function. In the financial markets we could say that Price and Time are the two primary elements which define market movement and structure. Price is Space in the financial market cosmos, and Gann himself even referred to Space in market charts.