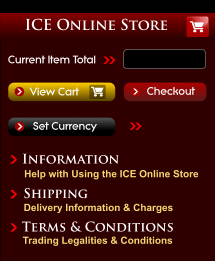 $0.00
$ (USD)
T. G. Butaney
T. G. Butaney, a famous Indian astrologer, wrote 3 books on astrological financial market forecasting and horse racing prediction. His books were judged "The Best Money Minting Books on Speculation and Racing By Readers All Over The World", and explain Market Forecasting, Race Astrology & Numerology and Handicap Formulae.
Ferrera's Astro-Bible
Studies In Astrological Bible Interpretation. By Daniel T. Ferrera. An interesting exploration of the coding of astrological and astronomical cycles into the Bible. Provides an analysis of the book of Genesis, exploring coding systems by which astrological symbolism is veiled, showing how Gann and Bayer used these secrets in the markets.
George McCormack
George McCormack, famous Astrometeorologist, is known for his classic Long-Range Astro Weather Forecasting, the most popular book on the Astro-Weather Forecasting. He also produced a series of financial market forecasting newsletters called Astrotech. We have recovered the only known partial set of 400 pages of these newsletters.
Sepharial Horse Racing
Sepharial's Private Horse Racing Arcana are the most important of his astrological prognostication systems, sold only by private subscription. The Master Key. The Golden Key. The Eclipse System. The Solar Lunar Values. The Solar Apex Method. Sepharial's Form Guide. Sepharial's Tidal Law. Sepharial's Solar Apex.
Sean Erikson, a professional trader and fund manager, presents a set of highly refined tools for advanced swing trading based upon principles of celestial mechanics and ancient geometry. Developed and refined over 3 decades of research, trading and professional management, his astro-trading tools represent the culmination of a lifetime quest.
Market Timing
The two fundamental elements of reality are space and time, and of the markets price and time. Gann always said that Time is the most important variable. If you know exactly WHEN to place your trades, when the market will turn, top, bottom, react or breakout, you will be able to trade or invest with great precision.
Prophecy
A generalized term for any kind of metaphysical methodology for predicting future events. Examples would be psychic phenomena, reading crystal balls, scrying mirrors, numerology, astrology, and many more such divinatory techniques. These systems are popular amongst esoteric traders and forecasters seeking insight into future events.
Theosophy
Theosophy, a school of esoteric thought developed my Helena Blavatsky in the late 1800's presented a revival of many lost esoteric traditions. Many of Gann's contemporaries were closely involved with Theosophy, and it influenced the Anthroposophy of Rudolf Steiner, the Arcane School and work of Alice Bailey and the teacher Krishnamurti.