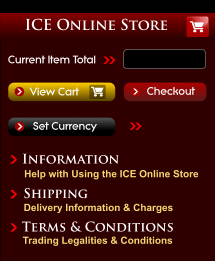 $0.00
$ (USD)
Bradley's Siderograph
Bradley's Stock Market Prediction. 100 Years of Siderograph Charts and Software. The Siderograph Indicator is a market model used by many analysts to give current turning points and trend indications for the markets. This book includes the original text and charts for 100 years from 1950 to 2050, along with the software to produce the charts.
Gann Pyramid Square 9
The Gann Pyramid, Square of Nine Essentials. By Daniel T. Ferrera. A groundbreaking course on the Square Of Nine, Gann's most mysterious calculator. This course explains the essence of this fascinating tool and its useful principles, with detailed expositions of key applications to the market. Gann's most secret and powerful trading tool!
Gordon Robert's course shows how to reproduce the legendary Returns of W.D Gann through leveraged position trading. A how to book that provides the keys toobtaining large returns from low risk investments. Find trades with an average risk:reward ratio of 1:10. Minimum return of 500% per trade to maximum returns exceeding 5000%.
Occultism
The term "occultism" is often misunderstood by those who fear the unknown. It simply refers to "hidden knowledge" and the various esoteric traditions, such as Theosophy, Anthroposophy, Magick, Hermetics, Tarot, and Astrology. In the Alice Baily works channeled by The Tibetan, Djwhal Khul "occultism" encompasses all high esoteric science.
Tarot
The Tarot, also known as the Book of Wisdom has a long and interesting history reaching back to its first documented appearance in the 1500's. Legend atributes the Tarot to Ancient Egypt and a supposed underground temple with images on the walls. The symbolic cards passed down via wandering "gypsies", and were commonly used in fortune telling.
The Canon
The Canon refers primarily to an ancient esoteric system of knowledge and cosmology encoded into temples, artifacts, art and monuments. The Egyptians had a specific Canon to lay out the grids upon which they designed their art, and there are also canons of proportion used in the Renaissance, as well as by later artists, geometers and musicians.
Learning Systems
Special Learning Systems use maximally efficient techniques to accelerate learning, enhancing memory, rapid mathematical calculation techniques, artistic systems, physical, and mental or spiritual training programs. Ancient and modern intellectual technologies combine to create new fruitful approaches to learning and understanding.
Dr Lorrie Bennett
Dr. Lorrie Bennett is one of few Gann experts to crack the Law of Vibration! 20 years of research led to the solution based on a complex code in Gann's texts. Following Baumring, Dr. Bennett explains the Law of Vibration in a 4 Volume Advanced Series revealing the Patterns, Numbers, Planets & Geometry behind Gann's secret trading system.