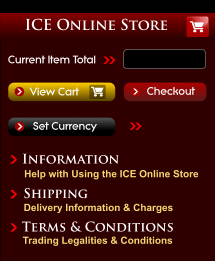 $0.00
$ (USD)
How2 Trade Like Gann
How to Trade Like W. D. Gann, by Timothy Walker. Provides profound insights into Gann's Mechanical Trading Method thru a detailed analysis of 322 trades from 1915-1931 presented in WD Gann's US Steel trading course. Shows how Gann turned $3000 into $6 million, generating 1337% returns in 8 months. Gain insight into one of the great traders.
Wheels Within Wheels
Wheels Within Wheels, The Art of Forecasting Financial Market Cycles. By Daniel T. Ferrera. Our best course on creating composite cycle models of markets from underlying component cycles available! This course breaks down 16 Dow cycles and projects them 100 years into the future. Teaches how to create cycle models for ANY market.
Dr. Baumring Seminars
Gann Harmony: The Law Of Vibration, A Distillation of the Wisdom and Insights of W. D. Gann. The Investment Centre Gann Seminars, Volumes 1-9. The most important Gann Course, from Baumring who cracked Gann's complete system. A study of the Cosmological System behind Gann's work. A PhD study in Gann Science!
Market Psychology
Books on the psychological element of the markets and trading. These works cover both how markets are influenced by the psychology of the individuals behind them, as well as the actual psychology behind trading for the trader.
Freemasonry
A modern history of Freemasonry begins in the 1700's with the Knights Templar and the Gothic Cathedrals, but its inner lore goes back to King Solomon and Ancient Egypt. Freemasonry was an inner teaching preserving the deep spiritual wisdom of mankind, but has been diluted in modern times. Our collection focuses on the teachings of original Freemasonry.
Science Biography
There are a many important historical figures in the field of science and cosmology, like Pythagoras, Plato, Hermes, Bruno, or the misrepresented Isaac Newton. The work of these outstanding men contributed a great deal to our extended fields of knowledge. We specialise in books exploring the work of past masters who contributed so much.
Electro-Magnetism
Electromagnetism is a basis of Physics, but there remains mystery about the true nature of electricity. Our books look back to the 1800's where the subject involved vibrational physics and astronomical energy fields. Gann was conncerned with the Law of Vibration as a principle of natural phenomena.