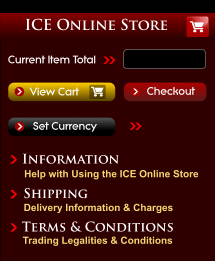 $0.00
$ (USD)
Ferrera Gann Analysis
Mysteries of Gann Analysis Unveiled! by Daniel T. Ferrera. Ferrera's Master Course on advanced Gann Analysis and forecasting covering Mass Pressure, geometric angles, planetary cycles, Permanent Charts, astrology, Squaring Price & Time, planetary vectors, Secrets of Gann Angles, mathematical grids, Solar Longitude and Square of 9.
Risk Management
Among professional traders, risk management is understood to be the absolutely most fundamental element leading to successful trading, because with proper risk management one can use randomly generated signals and still trade successfully. This is done by limiting oneís losses while letting oneís profits run.
Technical Analysis
Technical Analysis involves using technical tools and mathematical measurements in order to determine expected directional movements, reverses or changes in the market. Advanced forms of this technique use mathematical and scientific or geometric tools to project market action or forecast future movement, looking at elements of price, time and trend.
Numerology
Systems of numerology date back to ancient Egypt, India and Israel. Hebrew number science, Gematria, was woven through the sacred texts of Semitic religion. Plato used numerical codes in his works, and Thomas Taylor elaborated the advanced systems of Pythagoras in his "Theoretic Arithemetic of the Pythagoreans".
The Sacred Science Translation Society began in 2004 as a project to translate important and rare works on Cosmology and Esoteric Science into English. Donors and Contributions raised $40,000 to translate masterpieces from French and German on critical subjects in Harmonics, Geometry, Esoteric Mathematics, and Ancient Cosmology.
Aether Physics
Since Plato the principle of Aether, a subtle universal plenum filling space and responsible for propagating forces and energies, along with Earth, Air, Fire and Water, has been a core universal element. Until the late 19th century, scientists, including Einstein, and most cosmological systems, incorporated the principle of Aether as being fundamental.
Natural Philosophy

In the 1700-1800ís Natural Philosophers studied a wide range of scientific subjects, while not overly specializing in narrow and limited fields as scientists do today. WD Gann espoused this more holistic system of science, where the different branches were more easily integrated and the grand vision of the scientific system was more interlinked.
Gordon Roberts
A profitable Trading Strategy using Gann's best approach of Leveraged Position Trading to gain large profits from small capital using a powerful secret Options Strategy that maximizes profits through high leverage while limiting risk. Based upon Gann's book, Profits In Commodities and the author's 20 years experience in Gann research and trading.