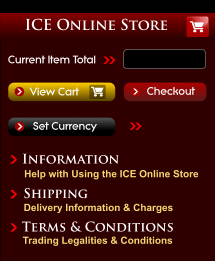 $0.00
$ (USD)
Donald Bradley
Donald Bradley is famous for creating the Siderograph model of market action, and he wrote other astrological books which we publish in our Collected Works of Donald Bradley. His Siderograph Model is famous for providing an almost perfect model of market action over the year. Our course has 100 years of Siderograph models (1950-2050).
Collected Outlooks
Ferrera's Collected Outlooks 2008 - 2019 are like instructional manuals in the Art of Financial Forecasting, providing educational studies on market theory and technique by a highly respected forecaster. They expand the toolbox of even seasoned traders, providing new tools and deep insights into cycles, technical analysis and Gann forecasting.
Commodity Trading
Gann's courses were generally categorized as either stock or commodity focused, but all principles taught for stock would equally apply to commodities. Stock traders who ignored Gann's commodity courses could miss out on many important techniques. Our Commodioty Trading material provides valuable techniques with a scientific approach to analysis.
Forex Trading
Forex has become very popular, with trades not so limited by time and swings not as volatile as other commodities. Forex is essentially a commodity, so its markets follow general commodity rules and many facets of Gann analysis work just fine for the Forex exchange. We provide techniques, tools and systems particularly focused on the currency markets.
Franz Bardon
Franz Bardon's magical works present a path of initiation through 3 levels of the Tarot. The first book teaches internal training, the second teaches the science of Magical Evocation, and the third teaches transcendental methods of the Kaballah. Frabato presents biographical informatioin about Bardon, with commentaries by friends and students.
Health
Our collection contains a selection of works on physical development and health, from yoga, to theories of nutrition and the like based upon esoteric ideas and principles developed in different schools and traditions of thought.
Architecture
In ancinet times architecture often incorporated esoteric knowledge almost lost today, but encoded secretly into many existing ancient monuments. Geometric principles of divine proportion govern the complex forces underlying financial markets as well as architecture. We have one of the largest collections of books on these subjects in the world.
Natural Order
Natural Order has from ancient times looked deeply into principles of order behind nature and the universe, like phyllotaxis which governs the placement of leaves on plants, the harmonic ratios between the placement of the planets in the solar system, or the spirilic mathematics of galaxies. Natural order reveals magical relationships in the natural world.