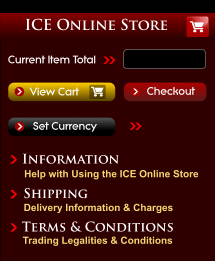 $0.00
$ (USD)
Sepharial Horse Racing
Sepharial's Private Horse Racing Arcana are the most important of his astrological prognostication systems, sold only by private subscription. The Master Key. The Golden Key. The Eclipse System. The Solar Lunar Values. The Solar Apex Method. Sepharial's Form Guide. Sepharial's Tidal Law. Sepharial's Solar Apex.
Gann Pyramid Square 9
The Gann Pyramid, Square of Nine Essentials. By Daniel T. Ferrera. A groundbreaking course on the Square Of Nine, Gann's most mysterious calculator. This course explains the essence of this fascinating tool and its useful principles, with detailed expositions of key applications to the market. Gann's most secret and powerful trading tool!
Forecasting

Not everyone has the skill, experience or desire to make forecasts of market phenomena, so they turn to experts who provide information to help anticipate market trends. Our top analysts provide forecasts or reports for different markets to help traders understand market action and get educational guidance with trading or investments.
Hasbrouck Space and Time
With rare research from the 1920's through the 1970's, the Hasbrouck Space-Time Archives studied market influence based on Solar Field Force. Muriel Hasbrouck, aided by her husband Louis, researched solar phenomena, space weather and earthquakes in relation to market forecasting, producing a well-received forecasting letter for 30 years.
Health
Our collection contains a selection of works on physical development and health, from yoga, to theories of nutrition and the like based upon esoteric ideas and principles developed in different schools and traditions of thought.
Zen
Zen and Chan are similar terms from Japanese and Chinese systems of Buddhism, but they originate from the Indian word Dhyana, loosely translated as "meditation". Zen is a mind science, giving direct access to the core layers of mind. The origin of Zen is in India, home of Buddhism. Allan Watt's called it "Hinduism stripped for export".
Vortex Systems
The vortex, a key element of 19th century aether physics, was critical to W.D. Gann's market science and was taken up by great thinkers like Walter Russell and Edwin Babbitt. Vortex and Toroidal energy theory provides a dynamic space-time model of energy fields from human and plants to planets, suns, solar systems, and galaxies.
Dr Lorrie Bennett
Dr. Lorrie Bennett is one of few Gann experts to crack the Law of Vibration! 20 years of research led to the solution based on a complex code in Gann's texts. Following Baumring, Dr. Bennett explains the Law of Vibration in a 4 Volume Advanced Series revealing the Patterns, Numbers, Planets & Geometry behind Gann's secret trading system.