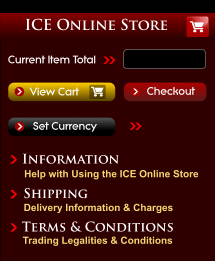 $0.00
$ (USD)
Ferrera Gann Analysis
Mysteries of Gann Analysis Unveiled! by Daniel T. Ferrera. Ferrera's Master Course on advanced Gann Analysis and forecasting covering Mass Pressure, geometric angles, planetary cycles, Permanent Charts, astrology, Squaring Price & Time, planetary vectors, Secrets of Gann Angles, mathematical grids, Solar Longitude and Square of 9.
George McCormack
George McCormack, famous Astrometeorologist, is known for his classic Long-Range Astro Weather Forecasting, the most popular book on the Astro-Weather Forecasting. He also produced a series of financial market forecasting newsletters called Astrotech. We have recovered the only known partial set of 400 pages of these newsletters.
Commodity Trading
Gann's courses were generally categorized as either stock or commodity focused, but all principles taught for stock would equally apply to commodities. Stock traders who ignored Gann's commodity courses could miss out on many important techniques. Our Commodioty Trading material provides valuable techniques with a scientific approach to analysis.
Forex Trading
Forex has become very popular, with trades not so limited by time and swings not as volatile as other commodities. Forex is essentially a commodity, so its markets follow general commodity rules and many facets of Gann analysis work just fine for the Forex exchange. We provide techniques, tools and systems particularly focused on the currency markets.
Market Science
Science provides vital concepts for analyzing financial markets. Studies of momentum, moving averages, pattern formation, energy, speed, power, strength, impulse, gravity centers, electro-magnetism, solar phenomena, geomagnetic field influences, aether physics, vortex systems, vibration, and wave mechanics are of significant relevance.
Chaos Theory
Non-linear dynamic mathematics, known as Chaos Theory, seeks order in seeming random patterns, exploring subjects like Fractals, System Mechanics, Lorentz Attractors, and more. Dr. Baumring originated the idea that Chaos theory provided insight into market phenomena, and later the great Mandelbrot tried to apply Chaos theory to the markets.
Number Theory
Esoteric and Pythagorean sciences love to play with the value and meaning of numbers, from the complex mathematical theories of the Platonists, via Fibonacci's ideas, to number progressions, ratios, proportions, sequences, and chaos theory. We specialize in the overlap of numerical and esoteric systems positing a more integrated cosmology.
Vibrational Radiesthesia
There is a long tradition of the use of instruments to read subtle energy forces in nature, through the use of subtle measuring devices like dowsing rods and pendulums. The Jesuits were famous for finding water sources, showing advanced knowledge of using these techniques. The scientific name for this practice is Vibrational Radiesthesia.